Agrify Announces Transfer of its Existing Credit Facility and Expected New Equity Investment
October 30, 2023 at 5:20 PM EDT
TROY, Mich., Oct. 30, 2023 (GLOBE NEWSWIRE) -- Agrify Corporation (Nasdaq: AGFY) ("Agrify" or the "Company"), a leading provider of innovative cultivation and extraction solutions for the cannabis industry, today announced that CP Acquisition LLC (the "New Lender") and its existing institutional lender (the "Existing Lender"), have signed a definitive agreement pursuant to which the New Lender purchased all of the outstanding convertible and senior secured notes of Agrify held by the Existing Lender and plans to participate in a future equity raise to inject new capital in the Company. Raymond Chang, the Chief Executive Officer of the Company, is one of the principals of the New Lender.

"In 2023, we made tremendous efforts to reduce our operating loss and cash burn and have also worked to settle trade payables and reduce and restructure our liabilities," said Mr. Chang. "We are also seeing really encouraging yield and performance results using our proprietary vertical farming units from our newly turned-on customer facilities and, with these successful model facilities, are continuing to gain interest and have signed up several new cultivation facilities to use our equipment. On the extraction side of the business, our comprehensive solution offerings and new products continue to gain interest both domestically and internationally. We believe that with this significant reduction in debt as well as with the extended maturity of the outstanding debt and the potential for future injections of capital, Agrify will be positioned to rebound and reestablish itself as the preeminent solution provider for the cannabis industry."
Key Transaction Terms
Immediately prior to the Note Purchase closing, the Existing Lender converted $3.0 million in principal amount outstanding under the Senior Secured Note due 2025 issued by Agrify to the Existing Lender on August 19, 2022 (the "August 2022 Senior Secured Note"), plus $1.1 million accrued interest, to warrants to purchase 2,809,669 shares of Agrify common stock ("Common Stock") at a conversion rate equal to the Minimum Price pursuant to Nasdaq Listing Rules, along with the exchange of the right to receive 375,629 shares held in abeyance under a prior exchange agreement for the same number of warrants. The warrants have an exercise price of $0.001 per share.
Subject to shareholder approval, the number of shares underlying the warrants issued to the Existing Lender shall be proportionally increased in the event that Mr. Chang or any of his affiliates acquire securities from Agrify through purchase or conversion or modify the conversion price of any securities held by them.
The New Lender has purchased all remaining outstanding convertible notes and senior secured notes held by the Existing Lender (the "Note Purchase"), with an aggregate principal amount of approximately $8.84 million outstanding under the convertible note originally issued to the Existing Lender in March 2023 (the "March 2023 Convertible Note") and an aggregate principal amount of approximately $6.67 million outstanding under the August 2022 Senior Secured Note.
At a future date after the Note Purchase closing, subject to shareholder approval, the New Lender plans to (a) convert the remaining balance of the March 2023 Convertible Note to Common Stock and to amend the applicable conversion price and (b) purchase, for cash or convertible debt, no less than $3.0 million of Common Stock.
At a future date after the Note Purchase closing, subject to shareholder approval, the New Lender and Agrify intend to amend and restate the senior secured note originally issued in August 2022 to grant the New Lender the right to convert that senior secured note, in whole or in part, to Common Stock.
The New Lender agreed to waive any events of default under the acquired notes until December 31, 2023 and to enter into an agreement with Agrify to extend the maturity date of the acquired notes until December 31, 2025.
This press release does not constitute an offer to sell or the solicitation of an offer to buy any securities in any future offering. There shall not be any sale of the securities described herein in any state or jurisdiction in which such offering, sale, or solicitation would be unlawful prior to registration or qualification under the securities laws of any such state or jurisdiction.
About Agrify (Nasdaq: AGFY)
Agrify is a leading provider of innovative cultivation and extraction solutions for the cannabis industry, bringing data, science, and technology to the forefront of the market. Our proprietary micro-environment-controlled Vertical Farming Units (VFUs) enable cultivators to produce the highest quality products with unmatched consistency, yield, and ROI at scale. Our comprehensive extraction product line, which includes hydrocarbon, ethanol, solventless, post-processing, and lab equipment, empowers producers to maximize the quantity and quality of extract required for premium concentrates. For more information, please visit Agrify at http://www.agrify.com.
Forward-Looking Statements
This press release contains forward-looking statements within the meaning of the Private Securities Litigation Reform Act of 1995 concerning Agrify and other matters. All statements contained in this press release that do not relate to matters of historical fact should be considered forward-looking statements including, without limitation, statements regarding Agrify's ability to obtain shareholder approval, issue additional equity securities, amend the terms of its existing note documents, close any new equity investments or new loan transactions on the terms described herein or at all, the expected benefits and savings to be realized as a result of the Note Purchase or raising of additional capital, Agrify's ability to grow its customer base and gain market share, and Agrify's ability to deliver solutions and services, including the development of new solutions. In some cases, you can identify forward-looking statements by terms such as "may," "will," "should," "expects," "plans," "anticipates," "could," "intends," "targets," "projects," "contemplates," "believes," "estimates," "predicts," "potential" or "continue" or the negative of these terms or other similar expressions. The forward-looking statements in this press release are only predictions. Agrify has based these forward-looking statements largely on its current expectations and projections about future events and financial trends that it believes may affect its business, financial condition and results of operations. Forward-looking statements involve known and unknown risks, uncertainties and other important factors that may cause our actual results, performance or achievements to be materially different from any future results, performance or achievements expressed or implied by the forward-looking statements. You should carefully consider the risks and uncertainties that affect our business, including those described in our filings with the Securities and Exchange Commission ("SEC"), including under the caption "Risk Factors" in Agrify's most recent Annual Report on Form 10-K filed with the SEC, which can be obtained on the SEC website at www.sec.gov. These forward-looking statements speak only as of the date of this communication. Except as required by applicable law, we do not plan to publicly update or revise any forward-looking statements, whether as a result of any new information, future events or otherwise. You are advised, however, to consult any further disclosures we make on related subjects in our public announcements and filings with the SEC.
Company Contacts
Investor Relations and Media Inquiries
Ray Chang Jr.
Director of Business Development 
ray.chang@agrify.com 
(781) 941-9338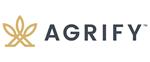 Source: Agrify